Fusion4Home Omni Panel Home Kit
Get the signal gain you need.
The SureCall Fusion4Home is a trusted cell phone signal booster in USA. Because SureCall has been the only company to report real coverage expectations and still overdeliver in performance.
With up to +72 dB gain of amplification, it greatly enhances 3G & 4G LTE cell service for all your wireless devices (smartphones, notebooks, hotspots, etc.) on any US carrier.
Never drop a call again. Stop waiting for loading screens. No more searching for reception. Get faster internet & updates on your apps. Send emails and text messages with zero delay. Stream video & audio with little to no buffering.
SureCall is the only cell phone booster name in the market to provide guaranteed results or 60-day money back guarantee and 3-year manufacturer's warranty. Sure signal. Sure coverage. SureCall.
Boosts 3G & 4G LTE for any home or office up to 4,000 sq ft.

Works for all phones & cellular devices, all US carriers.

Complete kit: all parts included, easy install.

No monthly fees, no need to be connected to wifi, it just works.

SureCoverage Guaranteed: Better signal or 60-days money back & 3 year warranty
60 Day Money Back Guarantee
For a more powerful signal booster (coverage up to 6,000 sq ft), please consider the SureCall Fusion5s
The SureCall Fusion4Home Omni/Panel
configuration is for:
For the average home size (3K to 4K sq ft).
Great for: most homes, small offices, and cabins.
Not recommended for: needing whole building coverage above 4K sq ft.
How Does It Work?
A SureCall cell phone signal booster for homes improves 3G & 4G LTE by amplifying existing outside signal. It does this with 3 main components:
1
Outside Antenna pulls in weak signal
2
Amplifier boosts signal up to 32X
3
Inside Antenna rebroadcasts better signal
Compatible With all Major US Networks
The SureCall Fusion4Home amplifies talk & text, 3G, and 4G LTE for all major carrier networks except WiMax and iDen.
All US carriers (4G LTE & 3G): AT&T, Verizon, Sprint, T-Mobile, US Cellular, Leap Wireless, C Spire, MetroPCS, etc.
Kit Includes:
View as gallery
SureCall Fusion4Home Amplifier
Outside Omni-Directional Antenna
Tech Specs
SureCall Fusion4Home Cell Phone Signal Booster w/ Omni & Panel Antennas
Frequencies - Uplink
698-716 MHz; 776-787 MHz; 824-849 MHz; 1850-1915 MHz; 1710-1755 MHz (G Block Included)
Frequencies - Downlink
728-746 MHz; 746-757 MHz; 869-894 MHz; 1930-1995 MHz; 2110-2155 MHz (G Block Included)
Supported Standards
CDMA, WCDMA, GSM, EDGE, HSPA+, EVDO, LTE and all cellular standards
Input / Output Impedance
50 Ohms / 75 Ohms
Maximum Gain
Cellular - 65 dB / PCS - 72 dB / LTE(A) - 63.5 dB / LTE(V) - 64 dB / AWS - 71 dB
AC Power Transmitter
Input AC 110V, 60 Hz; Output DC 5-15V
Cable
RG6 / SC-240
Connector
F-Female (output) / N-Female (input)
Power Consumption
< 15W
Dimensions
7.875 x 5 x 1.188 inch
Weight
2 lb 3 oz
FCC NOTICE:
This is a CONSUMER device. BEFORE USE, you MUST REGISTER THIS DEVICE with your wireless provider and have your provider's consent. Most wireless providers consent to the use of signal boosters. Some providers may not consent to the use of this device on their network. If you are unsure, contact your provider. You MUST operate this device with approved antennas and cables as specified by the manufacturer. Antennas MUST be installed at least 20 cm (8 inches) from any person. You MUST cease operating this device immediately if requested by FCC or a licensed wireless service provider.
---
WARNING: California's Proposition 65 This product can expose you to chemicals including Nickel (Metallic) which is known to the State of California to cause cancer and Bisphenol A (BPA) which is known to the State of California to cause birth defects or other reproductive harm. For more information go to www.P65Warnings.ca.gov.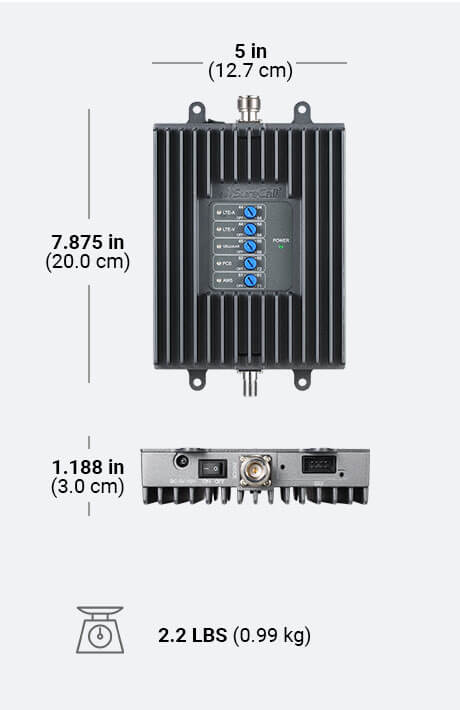 Installation
The SureCall Fusion4Home is easy to install. Everything is included in the kit. Our trained product specialists can also assist if you have any questions. Call 1-800-470-6777 or email sales@signalboosters.com.