Cel-Fi Joins SignalBoosters.com Lineup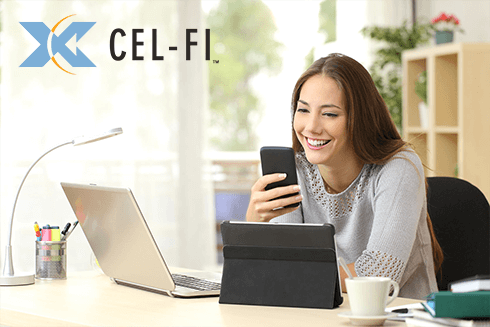 When you need a solution to boost the cell phone signal in your home, business, industrial location or mobile operation, you want to use the best equipment to meet your personal needs. The Cel-Fi line of cellular signal boosters is designed to provide the coverage your situation requires with minimal hassle in setup and maintenance.
About Cel-Fi
Cel-Fi products were developed by Nextivity, a company launched in 2006 with a "vision for a new generation of signal boosters." The Cel-Fi line was born out of this vision to address ongoing issues with poor cellular coverage and dropped calls experienced by people using cell phones indoors to make calls or transmit data.
According to the company's website, 80 percent of cellular calls are made inside. Many people have moved from landlines to cell phones to make daily contacts, maintain business connections and manage mobile employees. With Cel-Fi, Nextivity aims to provide a solution for every user designed to integrate with the standards of today's mobile networks without interference.
The team at Nextivity has a great deal of experience working in the mobile industry and understands the unique needs of diverse groups of cellular users. With 12 patents to date and 15 pending, the company is hard at work developing safe and effective technologies to improve signal strength on 3G, 4G and LTE networks around the world.
The Cel-Fi Difference
Using "advanced radio frequency and signal processing technology" developed by Nextivity, Cel-Fi products serve to optimize data processing and minimize delays while boosting signals for the best possible cellular performance. Every product is designed to avoid interference with major networks, making the technology "unconditionally safe" to use.
Cel-Fi products are billed as "smart cellular solutions" for anyone in need of a more reliable signal indoors or on the go. Solutions provide technology with the capability to service areas up to 200,000 square feet, including:
Apartments
Large homes
Kiosks and small businesses
Enterprises
Vehicles and boats
With the ability to adjust to network conditions, Cel-Fi products ensure coverage is available even when the main signal is less than ideal. The self-configuring hardware is easy to set up and is approved by 200 mobile networks. By simplifying implementation and providing the software tools necessary for ongoing monitoring and maintenance, Cel-Fi aims to make reliable cellular coverage a reality no matter where users are located.
What Does Cel-Fi Offer?
Nextivity describes Cel-Fi products as "the best solutions" to the "universal challenge" of ensuring good cellular coverage in a variety of different spaces and circumstances. With an "exceptional coverage footprint" and unrestricted compatibility with most major carriers, Cel-Fi hardware is built to provide reliable signal boosting for voice and data and can be scaled to meet the specific needs of each user.
Home and Small Business
For customers requiring coverage for up to 15,000 square feet, Cel-Fi PRO and Cel-Fi DUO can both provide 100 decibels of gain while reducing the draw on cellular batteries. Each system consists of a network unit (NU) and a coverage unit (CU) strategically located within the home or workplace. A quick four-step setup and clear LCD color interface make these products easy to install and use.
The Cel-Fi Pro can improve service on up to four bands at a time with maximum coverage of 13,000 square feet. Optional external antennas can channel outside signals in places where no indoor coverage is available. DUO handles HD voice and data on up to two bands and utilizes echo cancellation for superior performance.
Enterprise
Enterprise-level coverage is accomplished with the Cel-Fi QUATRA, a system with a single NU hub and up to four CUs to boost signals throughout large buildings. Thanks to the option of utilizing multiple NUs, the QUATRA system is scalable up to 200,000 square feet and is suitable for:
Office spaces
Warehouses
Parking garages
Building owners can rely on the 100-decibel active DAS to deliver quality cellular coverage to all occupants on 3G, 4G and LTE networks. Single- and multi-carrier solutions are available to support the variety of devices on which enterprise businesses rely. An optional MIMO antenna provides directional control to fine-tune performance, and Nextivity offers a planning tool to make choosing equipment and setting up hardware easier, faster and more efficient.
Industrial
Commercial, government and agricultural properties require uninterrupted cellular coverage to ensure workers can always stay in contact with each other and with supervisors. Signal-boosting equipment must be able to withstand challenging indoor and outdoor conditions, including exposure to water, dirt and dust.
Cel-Fi's GO X is designed for just these types of conditions. NEMA 4 rated for indoor and outdoor use, this units relies on "Intelliboost" signal processing to provide multi-carrier support on 3G, 4G and LTE networks. The GO Stationary is IP54 rated for similar use and supports multiple voice and data bands. Setup can be completed in five simple steps and includes the installation of an antenna to enhance performance and provide maximum coverage.
Mobile
With the Cel-Fi GO M kit, users are never without coverage even in the most remote areas. The GO M provides 65 to 70 decibels of gain and can be used to enhance cellular signals for:
Truckers
Fleet drivers
RV enthusiasts
Boaters
Similar to the GO for industry, the GO M is available in three-band or multi-band designs and is rated safe for indoor and outdoor use. Users can choose the appropriate mobile or marine antenna for their situations and enjoy voice and data coverage anywhere they go. For fleet managers, the GO M provides a reliable solution to guarantee they can always stay in communication with drivers.
All Cell-Fi solutions can be easily managed using Cel-Fi Wave, the cloud-based software provided by Nextivity. This platform is accessible from anywhere and gives users the ability to:
Register products
Conduct initial setup
Adjust settings
Optimize performance
Monitor use
Run essential updates
Available for PC, Mac, iOS, Android and Tencent, Cel-Fi Wave utilizes Bluetooth technology to maintain connections between devices and is accessible to users around the world. Administrators managing Cel-Fi networks in enterprise or industrial contexts can use Cel-Fi Wave software to continually monitor entire systems and ensure all devices are performing as expected.
Whether you're having trouble making calls from inside your home, your employees keep complaining about poor coverage or your mobile fleet needs more reliable cellular coverage in rural areas, there's a Cel-Fi solution designed for your situation.
Cel-Fi home and business products are now available from Signal Boosters. Browse the available units to find the best setup, or contact Signal Boosters for expert help getting started with Cel-Fi.