4 Reasons You Should Buy The Cel-Fi DUO+ or Cel-Fi PRO Smart Boosters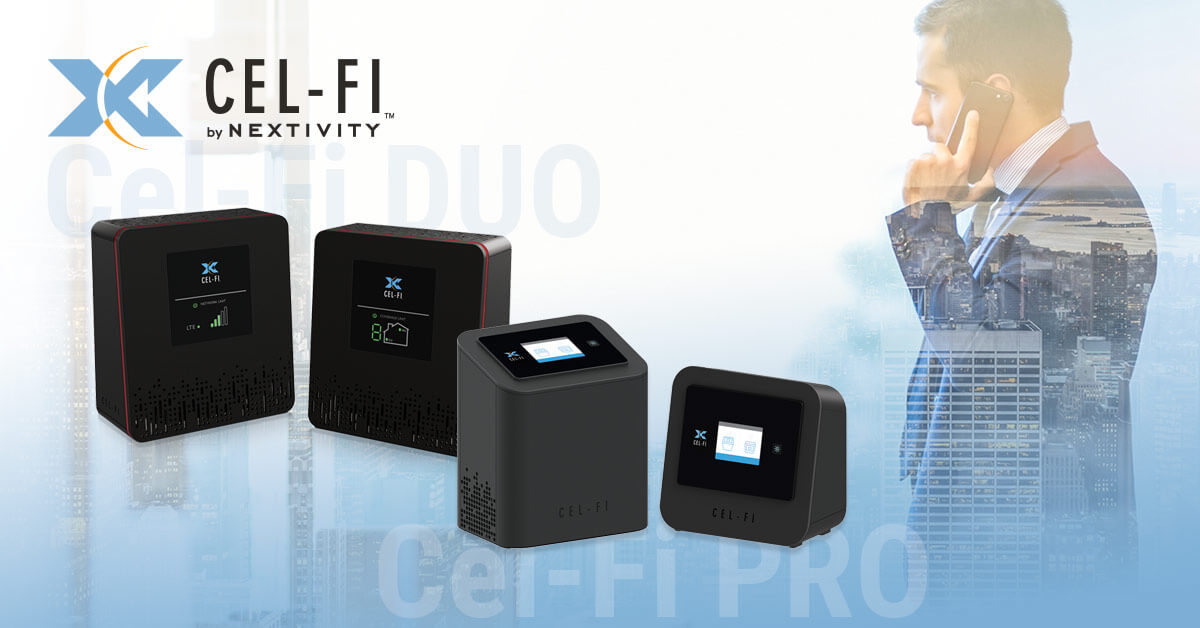 What Do You Mean, "Smart" Technology?
Cel-Fi DUO+ and Cel-Fi PRO signal booster kits feature tech that similar price-point products simply don't have. For obvious reasons, these units were hands down among our best selling signal boosters last year.
From a convenience standpoint, it is impossible to ignore the plug-and-play installation feature combined with a huge coverage area of up to 15,000 sq. ft. This is double the potential coverage area of its similar price-point competitors - and you don't have to climb onto your roof with your trusty tool belt to get it.
How is this possible? With no discernible connection between its units and no outdoor antenna to bring in the signal, what's the secret behind the high performance of the DUO+ and PRO?
We've spoken with the fine minds at Nextivity, the creators of Cel-Fi, and gotten some answers to these questions.
Struggling with Poor Cell Signal? We Offer Complete Signal Booster Kits for Any Situation:
Attention business & property owners, installers and integrators
Take advantage of our system design and installation services. Learn more or call us for a free consultation: 1-800-969-8189.
---
1. Cel-Fi's Proprietary Plug-and-Play Technology
The Cel-Fi DUO+ and PRO units comprise two separate parts: the Network Unit, and the Coverage Unit. Each must be placed a fair distance from each other - the further, the better. There are many important and innovative methods these Cel-Fi smart plug-and-play boosters use to provide their incredible power and coverage areas.
A big innovation pioneered by these boosters is echo cancellation. It's a continuous process (or conversation) that goes on between the Network Unit and the Coverage Unit. It enables the Cel-Fi DUO+ and PRO units to have higher gain throughout the coverage "bubble" without causing network interference.
Here's how it works:
When starting its setup, the Coverage Unit streams the signal from the Network Unit at its lowest strength. Within milliseconds, the Network Unit increases its power until the moment it receives the echo of the signal coming from the Coverage Unit.
The processor within the Network Unit then ramps up its dynamic echo cancellation algorithms to cancel out the echo from the Coverage Unit and continues to instruct the coverage unit to increase power.
When a maximum echo level is reached, the Network Unit will "ask" the Coverage Unit to stop increasing its power.
This dynamic three-step echo cancellation process repeats itself continuously in real time to ensure you always get the best coverage possible. With enough separation, areas between these two units can receive up to +100 dB of gain for the carriers compatible with the signal booster.
All this without interfering with the carrier networks one whit. Very impressive.

---
2. A Reasonable Price Point
The Cel-Fi DUO+ retails at $649.99, with the PRO (AT&T equivalent) at $699.99. That's more expensive than many lower power home or office units, but far cheaper than their competitor's equivalents in coverage area. In addition, more expensive boosters tend to require more and more complex installations, with the cheapest boosters having the simplest installation. Not so with the DUO+ and PRO, which have the easiest installation of any non-vehicle signal booster on the market.
---
3. Carrier-Specificity = More Power
The Cel-Fi DUO+ is compatible with Verizon and T-Mobile only, and the PRO was designed specifically for AT&T. This is what gives these Cel-Fi plug-and-play units their reliability. They are able to focus all their power on the network they were designed and approved by the FCC for. Cel-Fi units are authorized to achieve a 100dB maximum gain (more than 1,000 times the gain of traditional wideband analog boosters) by only boosting the frequencies carrying the carrier's signal.
In other words, Cel-Fi boosters do more with less, allowing a miniscule amount of signal to be boosted significantly more than if it were wideband. This is fantastic for rural areas who struggle to get any signal in particular, but has superior performance anywhere.
---
4. Easy Customization and Monitoring
The Cel-Fi WAVE App can easily monitor and report on the signal being generated by your DUO+ or PRO booster, and can be accessed remotely at any time. No other cell phone booster at this price point gives remote monitoring.
Things To Watch Out For
While there are many clear advantages to the PRO and DUO+, they are not for everyone. There are three potential downsides to the Cel-Fi DUO+ and PRO units.
The first is obvious: there's no option to switch carrier. This means that if you ever decide to migrate your family off AT&T's plan for Verizon's, say, your PRO unit will no longer boost your signal in your home or office, and vice versa.
Second: if you truly live off the grid, or can't get any signal whatsoever INSIDE your home or office, these boosters will not live up to your expectations. Like all signal boosters, they require at least a tiny amount of signal to boost - and if you only have a little, you can't expect maximum coverage. Still, this is mitigated by the sheer improvement you'll see in frequency of dropped calls and slow text messages if you have some signal anywhere in your home or office at all.
Finally, as we've alluded to previously, you need a decent amount of separation between these two units, preferably vertical. That means it's not ideal for a small space or apartment, as the units will automatically attenuate (decrease) the boosted signal output to protect the cell networks. In that scenario, we recommend the Cel-Fi GO-X
---
Buy Now
Up to 15,000 sq ft coverage with up to +100 dB of gain on Verizon and T-Mobile frequencies
Easy, plug-and-play installation. No need to drill holes in your home or office.
All parts included, and no monthly fees.
For Verizon and T-Mobile Only
---
Up to 15,000 sq ft coverage with up to +100 dB of gain on AT&T frequencies
Easy, plug-and-play installation. No need to drill holes in your home or office.
All parts included, and no monthly fees.
For AT&T Only
---
Contact Us
We're here to assist with any issues you might be experiencing with both poor cell signal. Contact us today, or give us a call at 1-800-470-6777.